Full or Short Season Leagues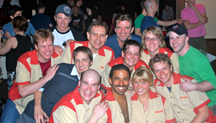 Our Leagues are a big part of our bowling center and we have enjoyed a long standing relationship with all of them.   Our Fall Leagues start in late August or early September and run through the end of April or early May.   Summer Leagues start in May and end in August.   League bowlers get discounts on Open Bowling and Parties.   They also have the opportunity to qualify each week within their league to compete in our prestigious end of the season tournament.   In the Bowler of the Year Tournament, one male and one female have the chance to win $500 & FREE League Bowling to any one league the following Season.   We pay for your bowling, you pay the prize fund portion of the league fees.   Many more prizes will be awarded.   You can click on the league name in Fall Leagues to see the League Standing Sheets.
Subscribe to email updates for upcoming info on upcoming league play at our Dyer location
Saturday Hegewisch league is looking for bowlers for the 2017-2018 season.
Check out the flyer for this super fun league.
Download a Hegewisch league flyer: Hegewisch PDF
2016 Fall Leagues
*** Fall League Information for 2017-2018 is coming soon. ***
Download a Flyer for Fall Leagues: 2016 Fall Leagues
MONDAY
Holy Rollers … 6:30pm … 5-person mixed league … 11 teams/weekly fee $13
Briar Ridge Mixed … 6:30pm … 5-person mixed league … 6 teams/weekly fee $16
St. John Men … 6:45pm … 4-person men's league … 6 teams/weekly fee $22
Monday Night Mixed … 6:45pm … 4-person mixed league … 10 teams/weekly fee $20
TUESDAY
Coffee Club … 9:30am … 4-person women's league … 10 teams/weekly fee $7.25
Tuesday Men … 6:45pm … 5-person men's league … 10 teams/weekly fee $23
WEDNESDAY
Wednesday Ladies … 6:30pm … 4-person women's league … 7 teams/weekly fee $20
Wednesday Men … 6:30pm … 5-person men's league … 21 teams/weekly fee $20
THURSDAY
Thursday Men … 6:45pm … 5-person men's league … 22 teams/weekly fee $22
FRIDAY
Heights Seniors … 1:00pm … 4-person seniors mixed league … 10 teams/weekly fee $6
Griffith Seniors … 1:00pm … 4-person seniors mixed league … 4 teams/weekly fee $5
Friday Mix-Ups … 6:45pm … 5-person mixed league … 16 teams/weekly fee $20
SATURDAY
USBC Junior Program … 10:00am … 4-person children's mixed league … 16 teams/weekly fee $11
Hegewisch Mixed … 6:30pm … 4-person mixed league … last year: 6 teams/weekly fee $21
SUNDAY
Wels Belles & Beaus (every other week) … 5:10pm … 4-person mixed league … 8 teams/weekly fee $15
Holy Shepherd (every other week) … 5:10pm … 4-person mixed league … last year: 11 teams/weekly fee $13
St. Maria Goretti (every other week) … 6:10pm … 4-person mixed league … 19 teams/weekly fee $16